Tytuł z: Pretty Lights - Gold Coast Hustle
odsłuch
A tutaj glitch-hop'owy tjun do pobrania za darmo ;
Naive Machine - Sept i Share by HIT AND HOPE
Fox Retro Birthday Id
by Plenty™ (www.plenty.tv)
Fox Retro summoned us together with our dear friend Fantasma™ in order to join forces and develop a very special piece: an Ident to commemorate its birthday. The client had imagined a one minute piece of animation, where all its series are showed in a 80´s retro-futuristic spatial Pinball. What a nice trip!
Fox Retro "Pinball" - Birthday ID from Plenty on Vimeo.
BBC "Electric Proms"
BBC "Electric Proms" from Brand New School on Vimeo.
American Software
American Software from Partizan Darkroom on Vimeo.
Here is American Software, a short film inspired by the towering giants behind the American software industry. That is, if Steve Jobs was a rebellious punk rectangle, with guitar in tow, taking on King Bill through a rock-off within some parallel counter-realist 8-bit geometric vision of our world.
Dan Tobin Smith
Artist Dan Tobin Smith doesn't build his works in photoshop– he carefully selects a world of color and creates these chromatically-bisected works of art by hand. You've likely seen Smith's work before, he created the album cover for Jay Z's The Blueprint 3. Long before the Jay Z album cover, Dan Tobin Smith developed a style so unique, so different, that his work is gaining international acclaim by the minute. When Jay Z's latest album goes platinum, that's essentially a million copies of Smith's work sold into the public.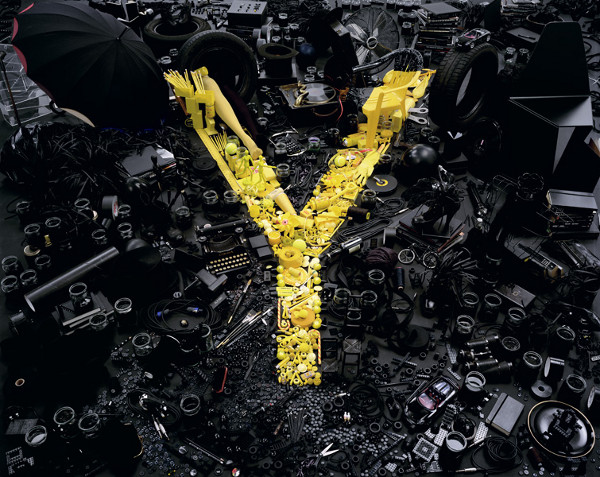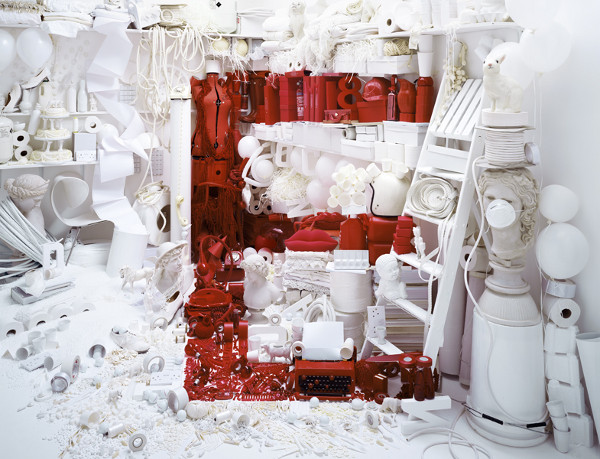 więcej
Irina Vinnik
więcej
Tim Simmons
Tim Simmons' haunting, ethereal landscapes examine the multilayered relationship we have with our physical environment. Taken in natural, often very ordinary settings, his pictures nevertheless have a surreal, otherworldly quality, placing them in a realm beyond immediate recognition. This illusive atmosphere invokes a sense of the spirit of the earth, inspiring quiet reflection in the viewer and prompting questions about mortality and our place in the world.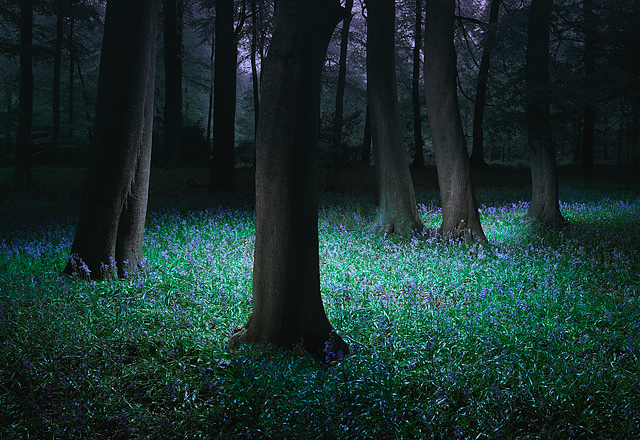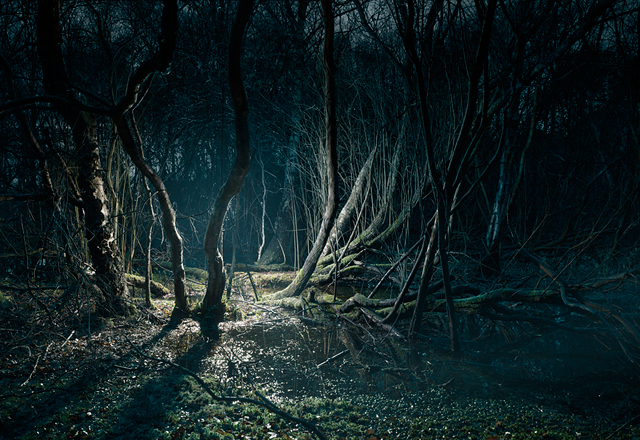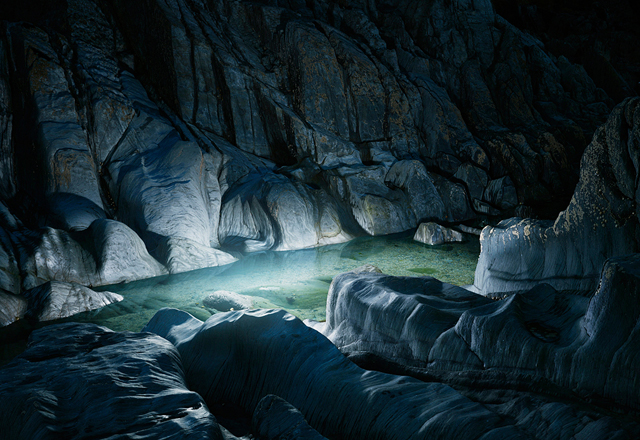 więcej
Anastassia Elias
więcej
Matt W. Moore
Artist Matt W. Moore has completed a series of works he calls Crystals and Lasers for a month-long art project in Paris, France. Moore traveled to France without supplies, concepts or plans for his showing at the Since Gallery in Paris at the end of his stay. After taking in the character of Paris, its people and culture, the artist created a series of prints using little more than spray paint, tape and a steady hand. The resulting art is wildly colorful, bright and kaleidoscopic in nature– a collection of visual candy that make the rest of the world appear to be black-and-white.
więcej
ARYZ
Fantastic street art from 22 year old Barcelona, Spain based artist and illustrator ARYZ. His work can be found on abandoned walls on the outskirts of Barcelona as well as in New York, Germany, Poland, Italy, and Bosnia-Herzegovina.
więcej
SuperStupidBros
więcej
Lerms
(kliknij miniaturkę by powiększyć ;) )
więcej
Gabriel Dawe
Gabriel Dawe was born in Mexico City where he grew up surrounded by the intensity and color of Mexican culture. After working as a graphic designer, he moved to Montreal, Canada in 2000 following a desire to explore foreign land. In search for creative freedom he started experimenting and creating artwork, which eventually led him to explore textiles and embroidery—activities traditionally associated with women and which were forbidden for a boy growing up in Mexico. Because of this, his work is subversive of notions of masculinity and machismo that are so ingrained in his culture. By working with thread and textiles, Dawe's work has evolved into creating large-scale installations with thread, creating environments that deal with notions of social constructions and their relation to evolutionary theory and the self-organizing force of nature. After seven years of living in Canada and gaining dual citizenship as a Mexican-Canadian, Gabriel moved to Texas to pursue graduate school at the University of Texas at Dallas where he is presently a candidate for an MFA in Arts and Technology. His work has been exhibited in Dallas, Houston, Montreal, Toronto and Barcelona.
więcej
Carolina Fontoura Alzaga
Connect is a series of sculptures made of recycled bicycle parts of varying size and shape. This body of work draws inspiration from Victorian chandeliers, DIY and bike culture, and the use of unartistic materials.

This work addresses class codes, power dynamics, reclaimed agency, and ecological responsibility. The bicycle chandelier is the conceptual point of departure for this ouvre. In this series the traditional chandelier is seen as a bourgeois commodity and the bicycle parts as a symbol for self-propelled movement. These subversive objects challenge the aesthetics of wealth by visually contrasting the classic elegance of the candelabrum with the newfound elegance of discarded, mechanical bicycle parts.
więcej
Julian Callos
więcej
Barnaby Ward
With the girls and animals pieces, I'm not trying to tell a specific story so much as create a sense of empathy. I wanted to create an obvious emotional connection between the girl and the animal, which I'm hoping shows that there's a relationship there, and a sense of history. There's not much more to it than that. But I think the combination of these elements allows the viewer to project their own ideas onto the piece. There's enough suggestion that I'm hoping it stimulates people's imaginations.
Claire Streetart
French artist Claire Streetart shows us couples kissing in sexy positions on the street with collages on the walls. Thick lines, simple shapes, a contrast between black and white and color. His characters are often stuck in a suitable place, managing to surprise us without surprise us, thus enriching the work of the work.
więcej
Inne:
Night Witch
by *
hgjart
on
deviant
ART
Priest
by *
hgjart
on
deviant
ART
Collab: Spell Scale
by ~
kheleksul
on
deviant
ART
rabbi
by ~
0BO
on
deviant
ART
somewhere beyond time
by ~
breathing2004
on
deviant
ART
gang
by ~
0BO
on
deviant
ART
Falcon
by *
masz-rum
on
deviant
ART
Anasazi
by ~
edlo
on
deviant
ART
Alice Desktop
by ~
ros78
on
deviant
ART
girls that look like girls
by ~
scottchurch
on
deviant
ART
Futuristic City
by *
JJasso
on
deviant
ART
Acid Bolts
by *
promopocket
on
deviant
ART
Piramide Cosmica
by ~
akujirocks
on
deviant
ART
Music is My Life
by =
Qinni
on
deviant
ART
Hanging Around
by *
xmisslolox
on
deviant
ART
Vanessa9231
by `
Pelicanh
on
deviant
ART
Waterfallcity II
by *
Kamikaye
on
deviant
ART
Healthkare grandma.
by `
beaucoupzero
on
deviant
ART
She love me not...
by *
JrDragao
on
deviant
ART
60575
by =
kubicki
on
deviant
ART
Undead Uprising
by ~
stuntkid
on
deviant
ART
Ice Scream
by ~
EatSleepDreamDesign
on
deviant
ART
Mayan Architecture
by ~
mehrdadart
on
deviant
ART